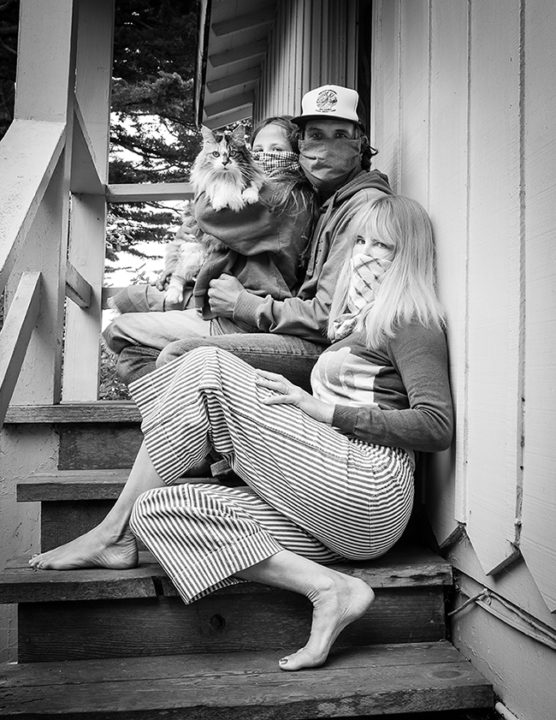 Community Project
Pandemic Porch & Gate Community Portrait Project: Together Alone
Tue. June 30 - Tue. June 30 This event has passed
Photos will be taken through June 30. See Ways to Participate below.
Despite our separation, our community remains robust, Together Alone. To document this strange and complex moment in history as we shelter-in-place, Bolinas Museum is partnering with local professional photographers to take black & white portraits of the Bolinas community. Everyone sheltering-in-place in Bolinas is invited to participate.
Many households have welcomed home their college-age children or elder parents. Some might be living with friends, loves, or pets, while others are more alone than ever. We may be more engaged with educating ourselves or our children. Some are overworked, while others are finding more time to explore the arts. Regardless, this moment is the dawn of something new. In addition to engaging the community during this time of social distancing, it is our hope to archive the portraits at the museum as a record of this unique moment in history. 
We invite you to participate between Mother's Day and Father's Day. Dress however you like (masked or not); hold or carry whatever is part of your life in this pandemic; express yourself as you wish, and we'll photograph it for you, or you can take your own portraits to share. No porch, no gate? No Problem! Portraits will be documentary style and can be anywhere outside your home, within reason.
Two Ways to Participate before June 30
1) Book your no-cost social distance mini 5-minute photo session by emailing the community lead via the links below with"Porch & Gate Photo Request" in the SUBJECT line. They will then connect you with a photographer or, if you know one of the listed photographers (ideally one in your neighborhood), contact them directly. Your photographer will send you a quick photo release / intake form to be filled out prior to your portrait session and will adhere to social distancing standards during your session. You will then be sent a digital copy of your photograph with the option to receive a high-resolution image with a donation to Bolinas Museum (an effort to help offset planned/canceled fundraising efforts due to COVID19). Include "Porch & Gate/photographers name" in the notes field on the donation form.
OR
2) Take your own black & white portraits or "selfie" in a documentary style, and send to Leah Vermulen by Father's Day, June 21. Please include "Porch & Gate" in the SUBJECT line and include the full names of the people in the photo in your email in order to be included in this community project. By submitting a photo, you agree to the museum's usage. Please submit this short museum intake form with your email.
Participating Bolinas Photographers
Leah Vermulen Lopez (Brighton Beach, Terrace) Community Lead
Richard Heckler (Big Mesa/Agate Beach)
Laura Kudritzki (Big Mesa/Agate Beach)
Janine Shiota (Big Mesa/Mesa Road, Horseshoe Hill)
Piro Patton (Big Mesa/Mesa Road)
James Fox (Little Mesa)
Participating Stinson Beach Photographers
Ginny Felch, Community Lead
We hope this project inspires other coastal Marin communities and welcome submissions from Muir Beach, Stinson Beach, Olema, Point Reyes Station, Inverness, Marshall, and Tomales. 
Thank you to Leah Vermulen Lopez, photographer and member of the Bolinas Museum's Board of Directors, for initiating and coordinating this great project in Bolinas and to photographer and former Museum Board member Ginny Felch for coordinating Stinson Beach!