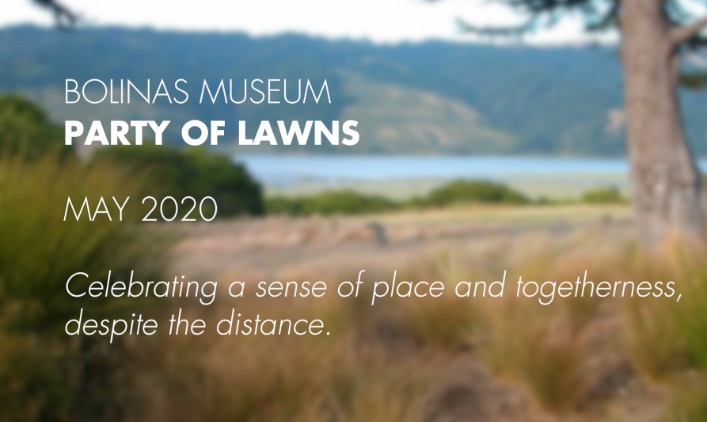 Special Event
"Party of Lawns"
Tue. June 30, 9:00 am - 11:00 pm This event has passed
Free / Join us!

Celebrating a sense of place and togetherness, despite the distance!

As we practice safe distancing and sheltering at home, the popular Annual Benefit Lawn Party over Memorial Day Weekend was cancelled. Rather than gathering on a local lawn with good food, good drink, and good music to share in the beauty and bounty of this unique coastal heaven together, we created a virtual "Party of Lawns!" and invite you to join us!
Despite the social distance, in the words of Point Reyes musician Danny Vitali, we here at Bolinas Museum hope you "never feel alone." With your support, Bolinas Museum will always be a welcoming gathering place dedicated to community and coastal Marin art, history, and culture.
Many thanks to the members and donors who sent in photos of their yards, gardens, and views to share with Bolinas Museum friends near and far! Mix up the signature Bolinas Museum Bo-Mist cocktail (recipe below) or poor a glass of wine and Enjoy!
Bolinas Museum Signature Bo-Mist Cocktail
1 1/2 shots Hangar One Vodka
1/2 shot St. Germain (Elderflower alcohol)
Crushed Ice
1/2 Meyer Lemon
2 oz. Fever Tree Tonic
Lemon Verbena, Lemon Thyme, Rosemary or Mint
Pour vodka and St. Germain over ice, squeeze in the lemon (No Meyers? Plain is just fine!), add tonic, stir, garnish with herb of your choice, and enjoy!
Special thanks to these generous donors for supporting this fun project during these challenging times:
Adrienne & Jack Ladd
Katie Beacock & Seadrift Realty, Stinson Beach
Carla & David Crane
Teri Olle & John Comerford
Vera Louie & Bill Braasch
Wendy Jaffe & Bruce Lowry
Bluewater Ranch
Sandra Willingham
Nancy & Herb Tully
Music courtesy of Danny Vitali
Bo-Mist Cocktail recipe thanks to Kirsten Walker
To make a tax deductible contribution to Bolinas Museum so that we may make it through these uncharted waters and be of service to the community well into the future, click here.