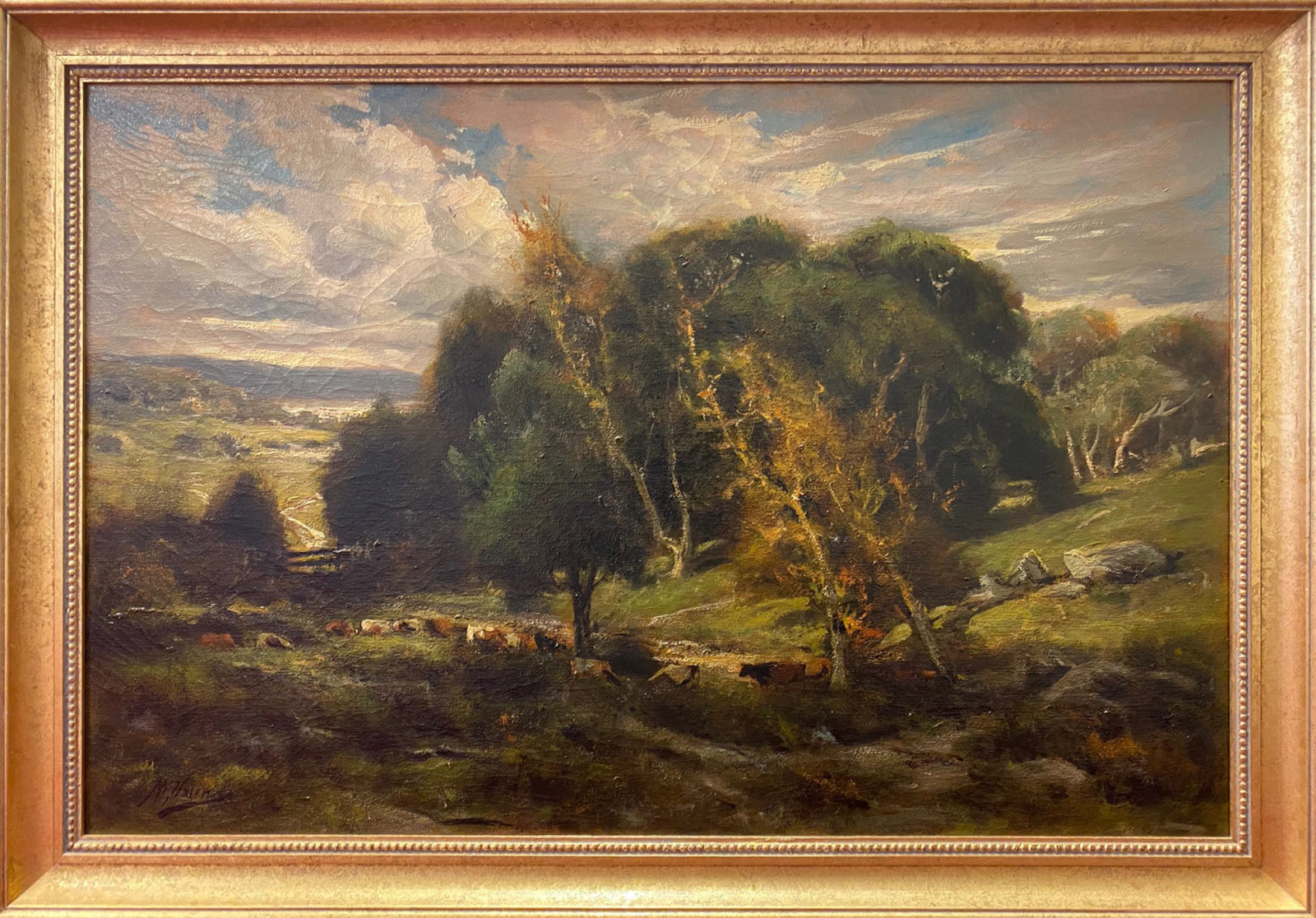 Manuel Valencia (1856-1935)
Grazing Cattle in Marin
n.d.
Manuel Valencia (1856-1935) was a prolific early California Bay Area landscape painter and descendent from a historically significant family. Bolinas Museum has shared Valencia's work with you in the past, with paintings borrowed from the California Historic Society and other lenders. His work has long been on the museum's wish list. So, it was exciting when this painting, set in Marin County, came up for auction at a reasonable price and we can now share it with you as a new acquisition in the museum's permanent collection.
In this painting Valencia leads our eyes through light and shadow, from cattle grazing in the foreground to sunlit grassland with an inviting road leading toward a hill, and beyond—a shadowed ridge, bright water, and a stormy sky. Is this the edge of Big Mesa in Bolinas, looking across the valley that is now Brighton Avenue to Little Mesa with the Bolinas Ridge and ocean beyond? Or perhaps a setting on Point Reyes Peninsula?
Manuel Valencia was born into a Spanish colonial Californio family on their Mexican land grant, Rancho San Jose, which is now Hamilton Field in Marin County. He was named for his grandfather, who was part of the de Anza party as they discovered the overland route to San Francisco Bay in 1774 and served as administrator of the early Presidio in San Francisco. San Francisco's Valencia Street is named after the family. Showing talent early, young Manuel studied with Jules Tavernier, attended what is today Santa Clara University, and spent time in Mexico as a member of "Esquela de Bella Artes de Mexico." He established an art studio in San Francisco and worked as a staff artist and art editor for the Chronicle newspaper. Manuel Valencia is known for his paintings of northern California, including evocative nocturnal scenes, and many paintings of Marin County and Bolinas. Though he died while living in Sacramento, his ashes were scattered on Mount Tamalpais, overlooking the Pacific Ocean.